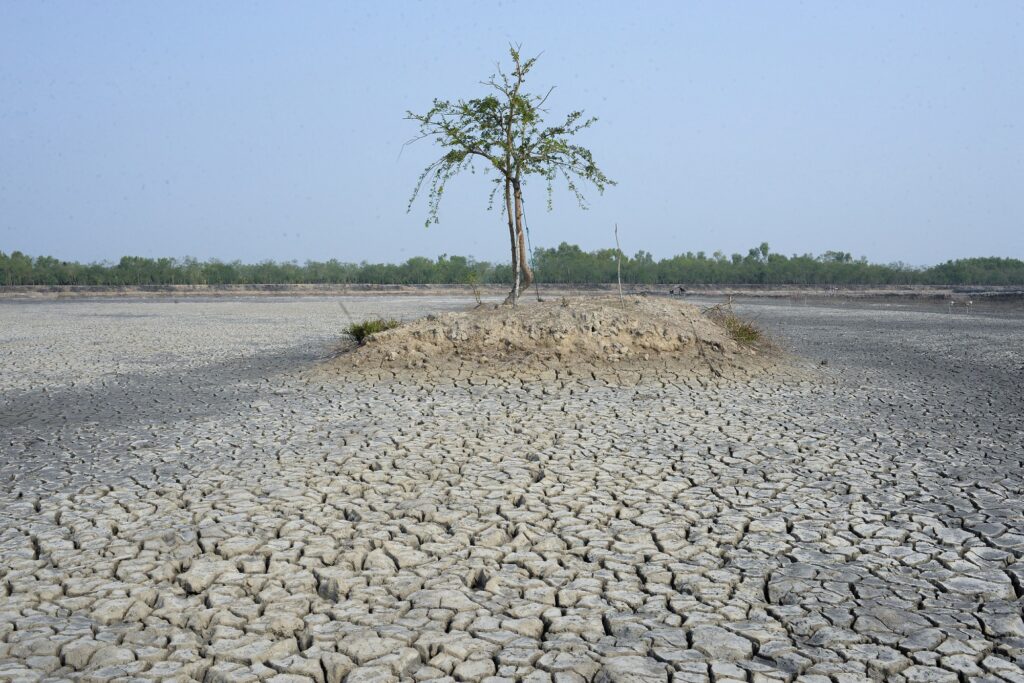 Being the largest delta of the world, Bangladesh is one of the most vulnerable countries which stay burdened under the threats and results of climate change. Sea level rise is a direct result of climate change. Scientists predicted that the sea-level is estimated to rise 85 cm to 140 cm by the year 2100 and Bangladesh, being a low-lying country, will have to face serious consequences as a result. By 2050, one in every 7 people of Bangladesh will have to change their residence because of such probable natural calamities. The low-lying coastal areas of Bangladesh are directly getting affected by this environmental problem. Satkhira, a low-lying coastal district of the southern part of Bangladesh, is located just beside the mangrove forest Sundarbans. This district and its adjacent coastal areas of Khulna have been suffering serious environmental hazards and are one of the most affected victims of climate change.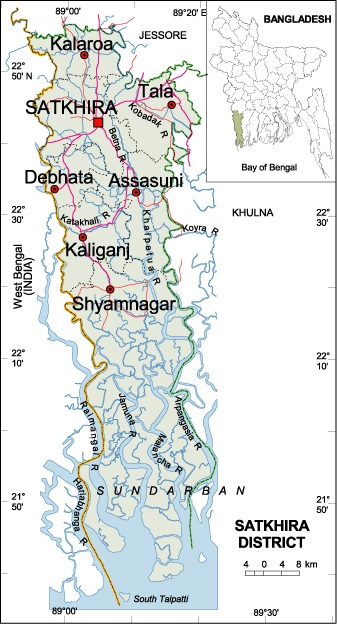 "After Cyclone Amphan hit, the river embankments broke and consequently my house started facing damage. The flood broke and washed away my house," said Kartik Mondol (42), a dweller of Hajotkhali village of Satkhira district and one of the victims of the cyclone Amphan (2020). As a result of Satkhira district's vulnerable geographical position on the map, this coastal district has faced hit repeatedly by cyclones like Amphan(2020), Aila(2009), and Sidr(2007). Moreover, every time these climate-infused disasters hit, people like Kartik Mondol's life transform into nothing less than a nightmare.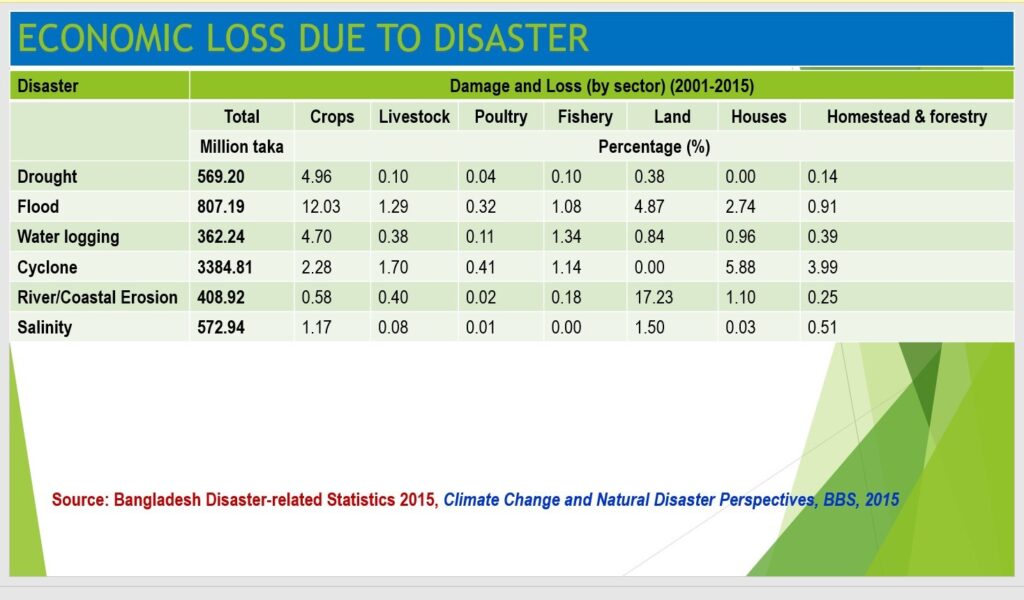 During the recent cyclone Amphan (2020), 81km of roads in Satkhira district got flooded and the whole transportation infrastructure has faced severe damage.
The cyclone broke the 56.50km flood-control river dam. As a result, over 30,000 hectares of shrimp and fish enclosure got washed away, leaving the farmers in economic losses that they are yet to overcome.
22,515 houses were completely obliterated whereas, 60,917 houses were partially damaged. (Source: Bangladesh Post news report "Amphan causes loss of Tk 315cr in Satkhira" published on 22 May 2020)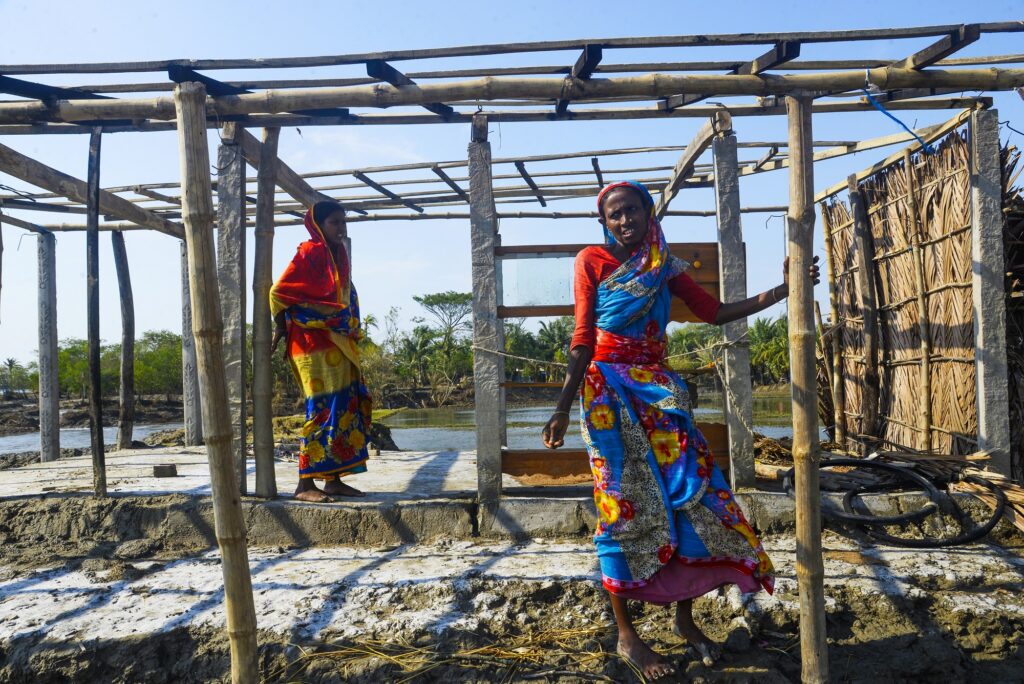 After the cyclone Amphan (2020) hit, 15000 families from 70 villages located in Shyamnagar and Asashuni Upazilas of Satkhira became homeless and were living in waterlogged conditions. Villagers were also seen living on the broken river embankments because their houses were submerged in the flood.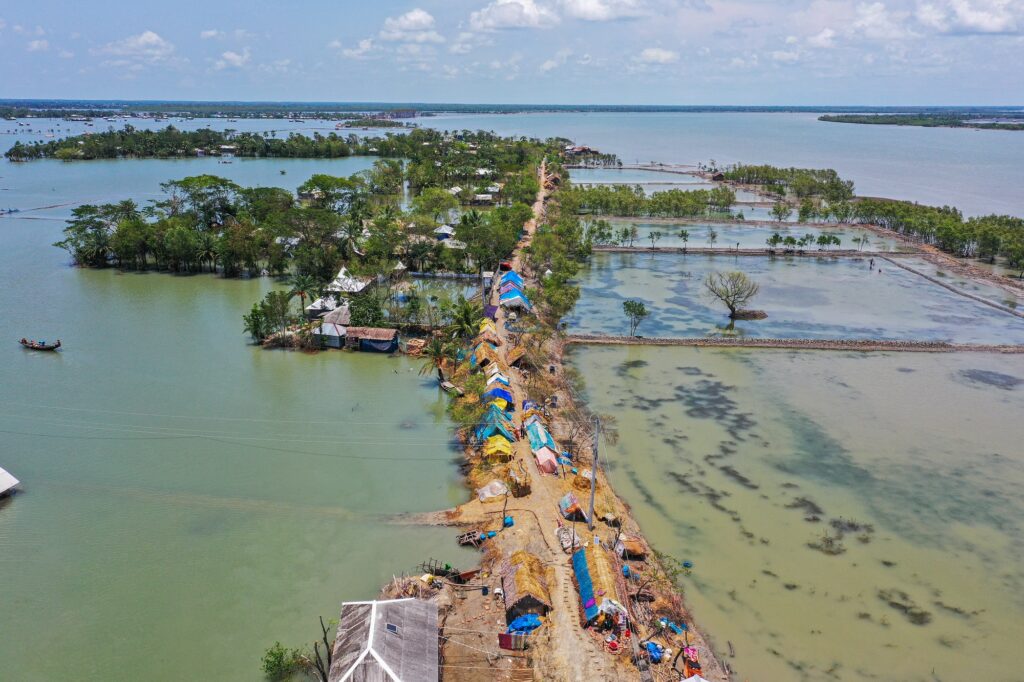 Deadly river erosion takes place due to the breakage of river dykes and embankments. People have lost lands, houses, and many of their property to the river. These people have become climate refugees. People were stranded and they had to experience this over and over again due to such frequent visits of climate infused disasters.
Satkhira district has faced drastic changes when it comes to land usage in the last 40 years. The floods caused by these cyclones are the main reasons for land damage in this area. The tidal wave created by the cyclones floods the river-near areas with saline seawater. By the intrusion of saline seawater in the arable lands from Kapotakkha and Kholpetua rivers, these lands become infertile and unsuitable for cultivation.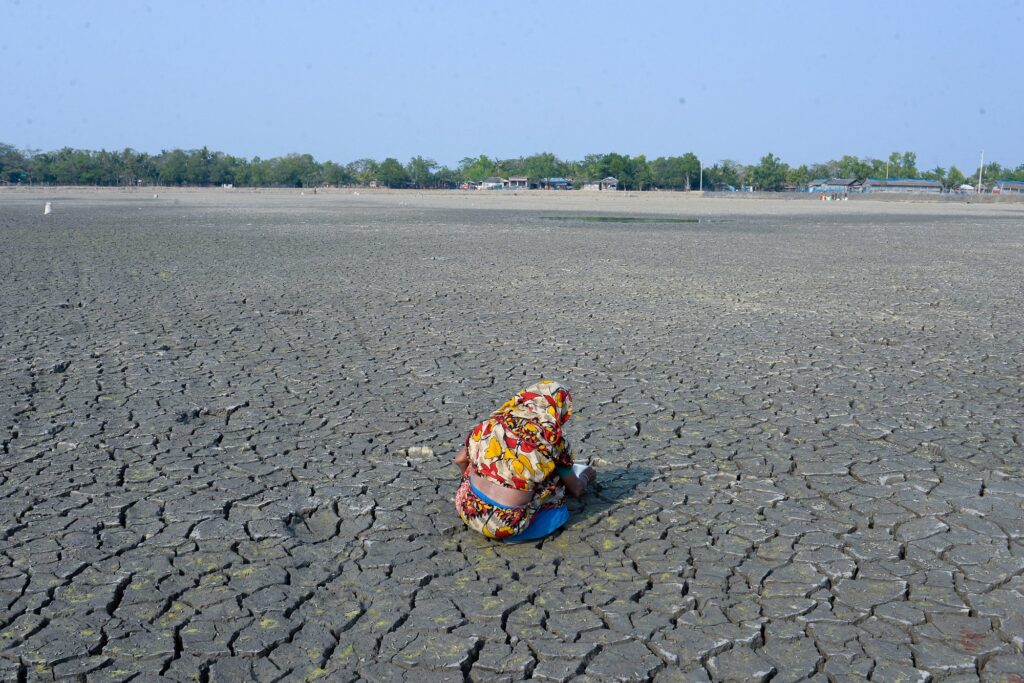 Due to the high salinity in lands, the scarcity of cattle food is rising. Inhabitants who were dependent on cultivation are now being forced to change their profession. Some have turned to shrimp and crab farming for income.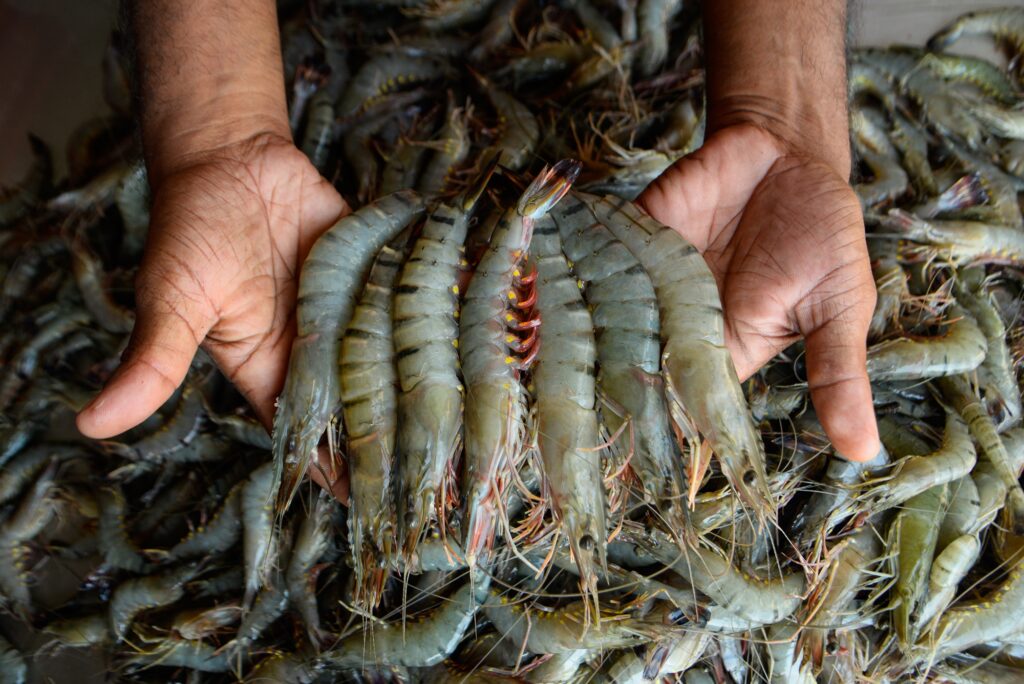 Haripodo Munda of Paisshimari village who used to be a farmer said, "Now I do shrimp farming. Why I do it? Saline water is everywhere here which makes crops unable to grow. That's why I do shrimp farming now."
Just like the land and salinity problem, another major problem for those inhabitants is drinking water crisis. The inhabitants have been dealing with the curse of drinking water crisis for a long time now. When the flood hits and saline seawater floods the mainland, ponds and tubewells also get affected. The saline flood water submerges the tubewells and mixes with reserved pond water. The high salinity in groundwater makes it undrinkable. Inhabitants cannot use river water for the same reason. One of the reasons for the salinity in groundwater is inundation of more areas during high tide. Upstream water flow is decreasing and downstream flow happens to be rising in these areas. Inhabitants walk for miles every day just to collect fresh water from tubewell or other water sources. Freshwater tubewells are very rare in this region. As most of the people are day laborers, collecting freshwater consumes a big amount of their day time which affects their income as well. Muslema from Jelepara village said, "We have to travel 3 kilometers to collect fresh water. If we set out in the morning to bring water, it usually takes till the evening to return home because the roads are damaged." Also, they need to be very careful and frugal about using water.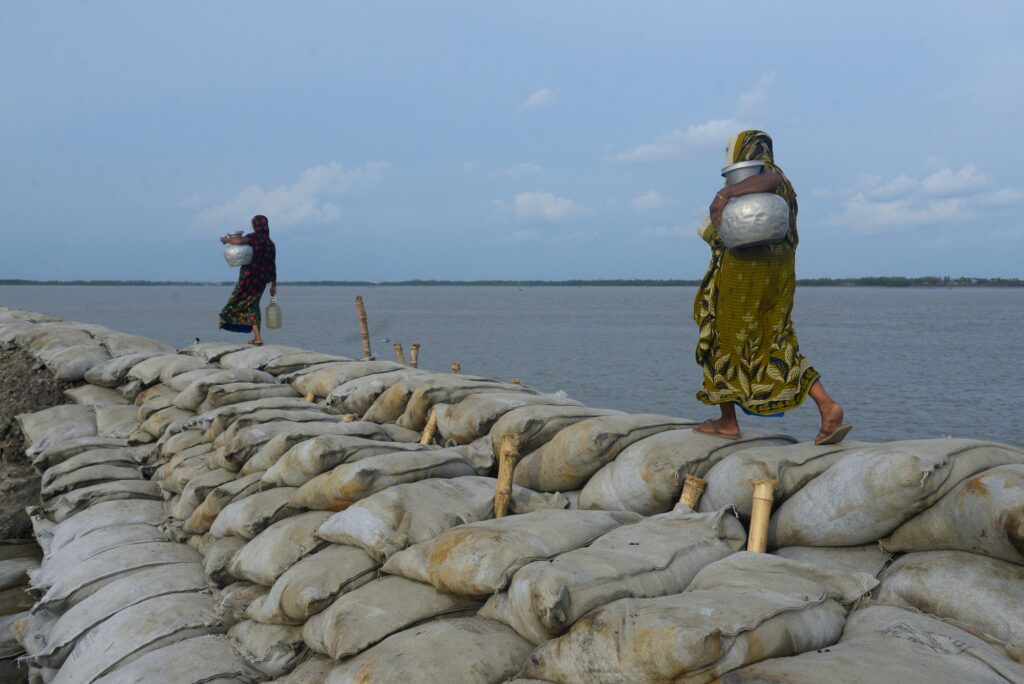 The locals reserve rainwater in plastic tanks, earthen big jars, or cemented tanks during the rainy season. However, the problem becomes intolerable during the dry days of summer and winter. During such times, they turn to ponds, which are mainly a natural reservoir of rainwater, for freshwater. Nevertheless, the ponds are limited in number and only last for a couple of weeks. During the cyclone Aila (2009) all clean water sources were contaminated with filthy saline water. People used and drank from those sources and subsequently there was a deadly diarrhea outbroke in the coastal areas. "Water, water everywhere, nor any drop to drink" — the verse from Samuel Coleridge's famous poem The Rime of the Ancient Mariner describes the scenario best when the flood hits and submerges the area. The scarcity of potable water often causes people to death.
Yet the inhabitants are managing to survive there with this water problem. In the rainy season, they reserve rainwater, in the dry and winter season they boil and purify pond water with purifying tablets for drinking and other daily usages. They are trying to adapt and continue to battle with such difficult challenges.
People living in the coastal areas have plight which they do not know how to end. Despite such struggles, the coastal dwellers are adapting to the problems and continuing their life. They have come up with ideas to cope up and live in harmony with the nature. Reserving rainwater to tackle the water crisis and using salinized agricultural lands for shrimp and crab farming are some of their adaptation techniques to sustain in these disaster-prone areas. In spite of being hit by the wrath of mother nature repeatedly, they disagree to give up their motherland. They fall only to gather strength and fight another day on their feet.
All Photographs & Video © Piyas Biswas